April 17, 2005: Allentown "Blues" 22 - St Gregory's 0
"Blues" Pictures
Send yours to Bob!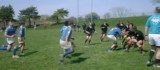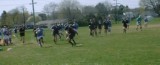 This was a well played game against a young eager team!

We set the tone for this game and demonstrated good rugby skills. 7 minutes into the game, after several forward charges, the backline broke for a long gain. Buc-Caz-CR run/passes yielded another great run by Justin as he powered a try in the corner for a 5-0 lead. St.Greg continued to show good skill as they defended aganst our dominant support and pressure. With 10 minutes left in half, a good backline run gave Mark PK from >30yds. and we took an 8-0 lead to halftime.

In the second half our power prevailed as Mark, Peter, Phil, Buc, Caz, Cr, Matt, Jason and Jake were most notable re-cycling ball. Jared finished off one play from 25yds out on a nifty fake/run. Mark converted for 15-0 score. Matt, Chad and Mark distributed ball for another CR-Caz move that setup another good run by FH Jared. Mark converted as we closed out the scoring at 22-0

Scoring Recap:
Jared (10pts-2 T); Mark (7 -PK,2-C) ; and, Justin (5-T)

Good job!