April 14, 2005: Allentown "Blues" 12 - North Penn 0
"Blues" Pictures
Send yours to Bob!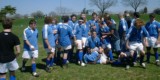 This was a hard fought game against a well coached team. Their forwards taught us much!

The North Penn pack 'picket fenced' the field and repeatedly re-cycled the ball to hard running backs. They won 2 out of 3 loose balls, especially in rucks, to dominate ball possession. We continue to maul well but could not prevent them from taking ball to the ground with control, especially in 1st half. We must bind and get lower in rucks.

The good news is our defense and hard play prevailed as we started to get good ball motion after 15 minutes of play. Steady forward support lead to some good backline and backfield moves, including Buc-Caz-CR pass-run combinations. Justin [another solid game from FB] continued to enter the line and finished off a beautiful power-running try in left corner for our 5-0 halftime lead.

We settled down more in 2nd half and Jared began kicking behind their flanks. They continued to win rucks but we stayed tough, showed discipline and played our game. They were unable to crack our Defense. Kicking paid off after FB knocked on in our goal and his futile kick wound up in Buc's hands. He powered in for a try and Mark converted to close out our 12-0 win.

Scoring Recap:
Justin (5-Try); Buc (5-T); and, Mark (2-C)

Great team effort against a good club!