First Annual Blues Tournament a Success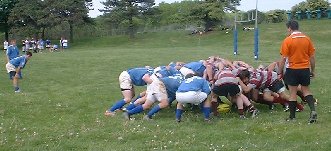 Conestoga B Vs United West Shore B Notice that both teams have a good low and solid form.
Allentown,PA – The 1st Annual Allentown Blues Rugby Tournament was held Sunday May 1st at Alton Park rugby fields in Allentown, PA.
The Allentown Area Blues High School RFC hosted the event.This event was planned quickly at the end of the season. It gave some of the EPRU High School teams additional competition at the end of the season.Over 150 parents and fans spend the day enjoying the tournament and soaking up some sun.Rain was in the forecast but the weather was excellent and made for great conditions for rugby.
The tournament featured A and B sides from each team. Conestoga, Troop Youth, West Shore United and Allentown were all involved in a full day of rugby action.
First, Second and Third place trophies were given:
Allentown won with most points, West Shore United was second and Troop Youth were third.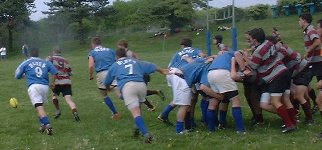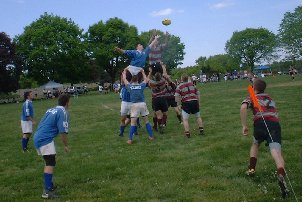 All of the teams played two full games of rugby during the tournament.West Shore United, a first year EPRU club was very impressive.The games were tough and each team played with tenacity. After the tournament a game was played with a combination of players from different teams, the players seemed to enjoy this game as they were all tired from the long day of rugby and just wanted to have some fun. Awards were presented afterwards followed by some donated food from the Allentown Blues Booster Club.
A thank you to EPRRS Ref, Reno Pesserisi. He was very helpful by giving up a Sunday and overseeing most of the match's.
The tournament was a success and Allentown hopes to continue the growth of the tournament and possibly have a larger Blues tournament next year.
Dan Benedict
Allentown Blues RFC